News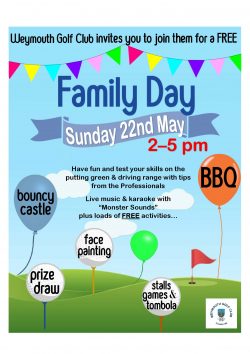 Our Family Fun day had to be postponed due to the weather on Sunday 1st May but has now been rearranged for Sunday 22nd May 2022.
Hope to see you and your families all there.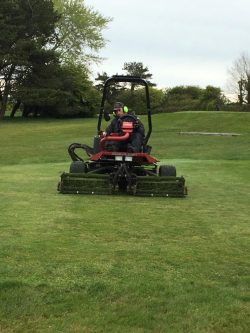 Greens Newsletter May 2022 
Hope you are safe, well and enjoying your golf.
The Greenstaff would like to thank you for the favourable comments being received about present course conditions and we look forward to keeping standards high for the rest of the season. Please don't forget you can do your bit by repairing pitchmarks, raking your footprints in bunkers and replacing or repairing divots with divot mix provided on tees.
April has seen  a glorious weather for golf with many sunny days and little rain. As to course maintenance early April was hectic with the necessary tasks of aeration ,topdressing and fertilising  to playing surfaces followed by mowing and more mowing that spring grass growth sees. But ask any greenkeeper what we haven't had is enough rain and definitely no night-time warmth. Looking back at our weather stats this dry cold spell in April is becoming the norm and as I write a little rain and warmer conditions would be a great help in keeping up current course conditions.
Back to the topic of mowing our turf as we all know it's all about playability and presentation of the course and in the current spring and early summer months this task uses the majority of man hours. We strive to keep the course to the same standard seven days a week which means all playing surfaces a cut regularly. Currently  Greens are cut daily , Green collars and approaches three times  weekly, Tees twice  weekly, Fairways twice  weekly, Fairway surrounds twice weekly and  semi-rough weekly. Throw all this mowing in with the other tasks to hand of basic course husbandry no wonder the weeks are flying by. So please be patient when a member of staff is mowing in front of you and wait until it is safe to play through.
With the dry weather our irrigation system is now up and running and yes we currently do have a few minor leaks about the course which will be addressed when time permits.
The Fairway divot trailer will be dusted off and reintroduced to the course as of next week please take a bucket of soil and seed from the trailer and fill a divot or two if you can it is a great help. May the 10th we are planning to hold a fairway divot morning where if you have a spare couple of hours and fancy filling a few fairway divots mark this day in your diary exact time will be announced shortly.
I am sure you are aware of the sad passing of Luke Bartlett and all the Greenstaff would like to take the opportunity to pass our heart felt condolences to Lukes family. Barts was a true friend  and will be sadly missed. Where ever you are mate I'm sure you are making um all smile and laugh as you did with us all, god bless you buddy x.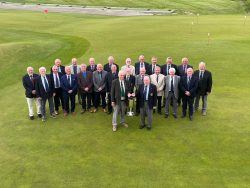 Congratulations to our Weymouth Seniors team with their win over Came Down yesterday in the Nantes Cup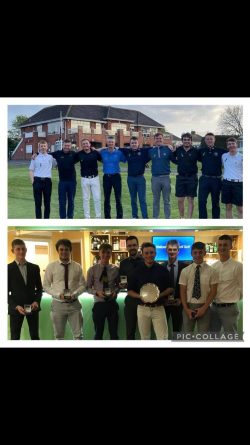 The Beckford Bowl was played at Weymouth yesterday against Brockenhurst
Weymouth beat Brockenhurst 6.5 to 5.5.
Green ribbons were worn by all the Weymouth team in remembrance of one of the team Luke Bartlett
Great gesture by all the team.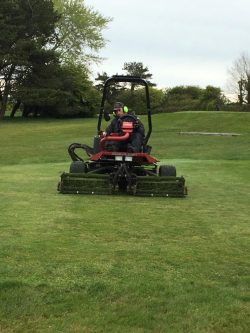 Greens Newsletter April 2022 
Spring is in the air and we hope you are all well and enjoying your golf. Recent weather has been glorious and has dried the course out nicely mowing has started in earnest as the warm weather has started spring growth on the course.
The greens are still soft from the winter weather and heavily scared from golf ball pitchmark damage. Please if you are expert enough to land your ball on the green can you please make the effort to repair your pitchmark  this simple task really does make a difference to the condition of our greens and your enjoyment of putting on them.
So why bother to repair a pitchhmark  you ask ?  Well we have to look at the facts. Gathering data from our BRS tee booking system our average rounds per week are 1,050, each golfer is estimated to make 8 pitchmarks per round so our greens are receiving 8,400 pitchmarks a week or 436,800 a year! With these figures in mind please do bother to repair your pitchmarks to help to protect our greens.
How to repair a Pitchmark:
A pitchmark only takes a few seconds to fix correctly however, a pitchmark repaired incorrectly takes over 3 weeks to heal.
See below image on how to repair a pitchmark on a green correctly –
Correct Method:
Discard the loose piece of turf taken out by the ball
Insert the pitchmark repairer tool just outside of the back of the pitchmark
Lever the turf towards the centre of the pitchmark
Repeat this motion from all sides of the pitchmark
Gently tap the repaired area with your putter. This action stretches undamaged turf over the pitchmark, providing instant recovery
All tees have now returned to grass allowing you all to play qualifying rounds for your handicaps. Green boxes of divot mix are situated by each tee and if you take a divot please can you take the time to fill it with the divot mix provided.
After a long layoff the divot trailer will return shortly for you to collect a bucket of divot mix and fill a divot or two whilst playing that hole. We also plan to hold a divot repair party on the 10th of May timing to be confirmed, so if you can spare a couple of hours to fill some divots on our fairways it would be a great help.
A note for your diary the greens will be having some much needed spring maintenance from Monday 4th April there will be temporary greens in play for 2 to 3 days this is an essential task to keep our greens in good condition so please be patient.
Last but not least I would like to congratulate Ben Tyrell who has recently gained NVQ Level 3 in Sports Turf Management a massive string to his bow and  Sam Trott our apprentice Greenkeeper who has successfully gained his first qualification. Sam recently passed the first two parts of The National Proficiency Test Council Pesticide Application Course PA1 and PA6. This qualification is a necessity for a greenkeeper and has qualified Sam to legally and safely handle and apply pesticides via hand held applicators. A massive well done to you both.
Rob Mabb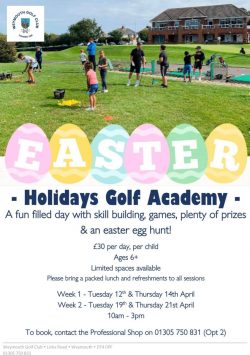 JUNIOR EASTER GOLF ACADEMY
Looking for something fun for your child to do this Easter half term?
Great fun and quality coaching for children of all abilities, designed for maximum enjoyment and improvement. Lots of fun games, mini challenges to develop skill levels and of course, an Easter Egg Hunt!
These events tend to book up quickly so call us today to book a place…
– 01305 750831 opt 2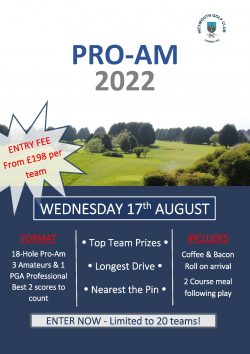 Returning in 2022 – The Weymouth Golf Club Pro-Am…
It's back! We are very excited to announce that the Weymouth Golf Club Pro-Am is returning this year on Wednesday 17th August. This will give our members an outstanding and unique opportunity to team up and compete with one of the leading PGA Professionals from the Top 20 Wiltshire/Dorset Order of Merit.
This Pro-Am is initially only available for members to enter and is limited to 20 teams on a first come, first serve basis. Closing date for entries will be Sunday 31st July.
Please see below for more information about the day and competition format.
– Coffee & Bacon Roll on arrival
– 2-course meal following play
– On-course refreshments
– Prize presentation with fantastic overall prizes for top 5 teams
– Longest drive & nearest the pin prizes
– Raffle!
– Member's entry fee – £198 per team
Competition Format:
– Teams to consist of 3 members and 1 PGA Professional
– 18-Hole Team Bowmaker, best two Stableford scores to count on each hole
– Maximum Handicap Index for entry; Men 24.2, Ladies 31.9
– 85% Handicap allowance
– Individual Medal competition for the Professional
How to enter:
Give the Professional Shop a call and we'll take your details and payment over the phone.
ENTER NOW TO AVOID DISAPPOINTMENT!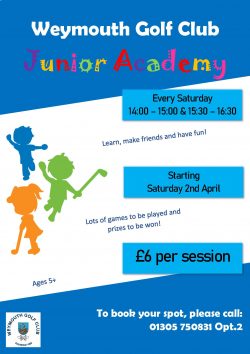 JUNIOR ACADEMY AT WEYMOUTH GOLF CLUB STARTED – SATURDAY 2nd APRIL
Welcoming young golfers, Weymouth Golf Club actively supports the development of junior players into the game. Coaching at the Club is dynamic and fun, engaging young golfers in well-structured 'learning focused' practical golf sessions, delivered by a passionate coach, Mark Rankin.
These 'Roll Up' coaching sessions started on Saturday 2nd April, with sessions at 14:00 & 15:30, and will run every Saturday until October, for all young aspiring golfers aged 5+. All equipment can be provided for those new to golf.
Junior 'Roll Up' Group Sessions
Team Work, Gamesmanship and Mind-Set provide the foundation for encouraging young players to develop those all-important golf skills – (Putting, Driving, Iron Shots, Chipping, Bunker Play and Pitching). Our group coaching focuses on progressing key golf skills in a dynamic and fun environment alongside players of similar age and ability. Importantly, recognition of the young player's hard-work and effort to develop their golf skills is acknowledged regularly with prizes.
Individual Junior Coaching
Supporting young golfers in their goal to improve, we also provide juniors with the opportunity to take individual coaching sessions. More in tune to the young golfer's unique developmental needs. Individual lessons bring an additional layer of focus to the player's learning requirements. Individual coaching sessions can be booked throughout the week with Mark Rankin.
Individual Lesson Prices
30-Minute Junior Lesson – £12
Lesson Package (6x 30-Minute Lesson) – £60
All Weymouth Golf Club Members – help us spread the word about our Junior Academy. Please forward this onto family and friends, who potentially have a young golfer wanting to start the game.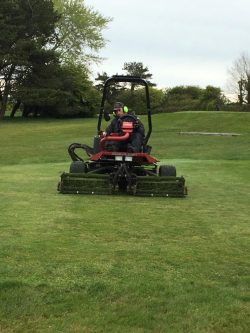 Below is a link to the Five Year plan for work out on the course.
As you will see each task has a greenkeeper attached to it as lead greenkeeper on the project